What do you do at WorldStrides?
I am the Manager of Sales & Account Management. I manage a portfolio of our top clientele while leading our awesome team as they hunt new business and work to grow and rebook our annual partners.
How long have you worked at WorldStrides?
Just over seven years – I started on May 4, 2015, to be exact!
WorldStrides goes to so many destinations, but what has been your favorite destination that you have visited while working for WorldStrides?
Northern Italy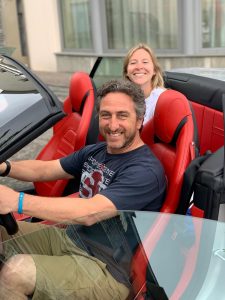 What are the top three things you did while in Northern Italy?
1. Test drove a Ferrari with Ralph Pascarella, East Region Coach from US Youth Soccer, in the town of Modena!
2. Rode in a gondola through canals in Venice.
3. Cheered on one of our US Youth Soccer teams playing Juventus F.C. neck and neck in the Claudio Sassi tournament.
What is the number one thing that you would tell somebody to not miss if they visit Northern Italy?
Don't miss a visit to Lake Como. It is beautiful!
Do you know any weird or strange facts about Northern Italy?
Italians consume 14 billion espressos each year. It doesn't matter what time of day it is, they are always up for espresso. Morning, noon, and night!
What was your favorite food or drink that you tried while there?
It wouldn't be fair of me to choose a winner between the pizza, pasta, and gelato. They are all amazing!
Did you buy a souvenir and if so, what was it?
I caved and splurged on a Louis Vuitton wallet five years ago and Eric hasn't let me live it down yet. Still saving for the purse to go with it though! Could be a small factor contributing to our AM Team being nicknamed Team Diva…
If you could pick your next trip, where would you go?
In 2020, I was slated to visit Munich, Germany prior to the global pandemic hitting. I am looking forward to rescheduling that trip and traveling with our teams. After test driving a Ferrari, it only makes sense that I visit the Autobahn next!
What is the best travel tip that you can pass along to customers?
Invest in a good neck pillow. You won't regret it!