WorldStrides Sports is dedicated to delivering the best international sports tour experience possible. If you would like to learn more about how WorldStrides Sports can help you plan an international sports tour, please feel free to contact us at any time by filling out the form below or contacting us via email (sports@worldstrides.com) or phone (410-489-2287).
The WorldStrides Sports Speaker Series presents discussion and conversation with a variety of soccer professionals who share their stories and insights about the game. From remembering personal origin stories and times of celebration to moments of obstacles bested and barriers broken, we invite you to listen along with us and learn from the experience and wisdom of these career influencers.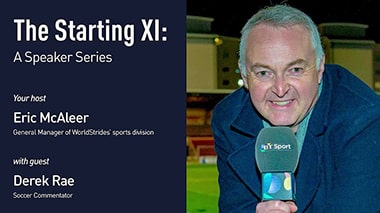 Derek Rae
From taking his tape recorder to Aberdeen games as a young boy, to commentating at World Cups, Derek Rae has seen it all. He tells us about the luck involved in his big break, the influence of the German game on him, and why the 2019 Women's World Cup might have been his most favorite tournament to date.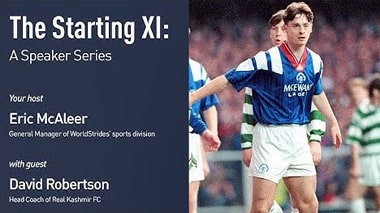 David Robertson
David Robertson speaks about how he got hooked on soccer, the intimidation of traveling from a small city to try out for Scotland Schoolboys, and how he recovered from that failure to have a highly successful career. We learn how the experiences he had as a youth and getting out of his comfort zone prepared him for the player and coach that he became.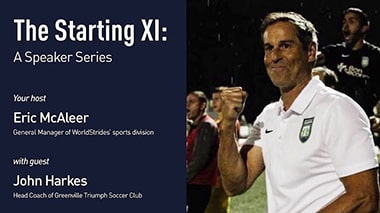 John Harkes
In this episode, John Harkes describes the experience of growing up in Kearney, New Jersey, and how learning the game in that soccer hotbed helped shape his career at a young age. After signing for the University of Virginia, he shares the struggles he had at the beginning of his time in Charlottesville and the impact Bruce Arena has had on him throughout his life. Now a well-respected coach, John discovered the concept of servant leadership during his time as captain of the US Men's National team and he now instills this in his teams and players.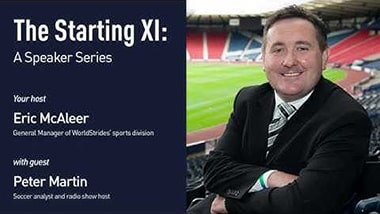 Peter Martin
From DJ to soccer commentator, Peter Martin talks about his childhood growing up close to Motherwell. In his youth, he was surrounded by his idols and was inspired by watching them play the game. Peter's advice to others is to "load the bases" and give yourself every opportunity to improve yourself and grow. This mentality has helped Peter develop as a presenter and a commentator. He is always looking to the future for opportunity and building his network.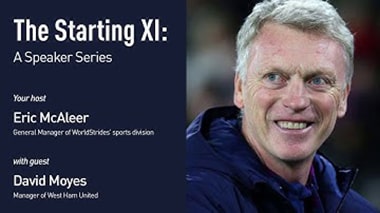 David Moyes
David Moyes provides some insight into his mindset and leadership style that have allowed him to have prolonged success at the very top level of soccer. He shares what it is like being the son of another soccer legend and the positive influence his dad has had on him throughout his career. David walks us through the beginning of his career, talks about the key individuals and the lessons they taught him, and how things are different today.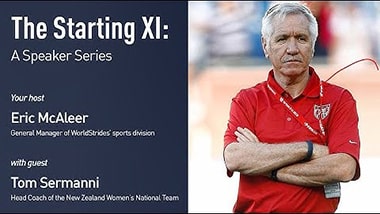 Tom Sermanni
Our virtual conversation with Tom Sermanni provides some insight on the transition from his playing career to the world of coaching women's soccer. Tom opens up about the early days coaching in Australia, taking a risk by leaving his comfort zone and coming to the U.S. to coach the best team in the world, and how he has evolved as a coach through this journey.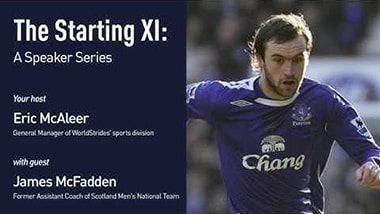 James McFadden
James McFadden opens up for a candid conversation on his experiences through the years as a player, the coaches and teammates who have influenced him, and his advice to aspiring players. James also hits on why he decided to transition from a player to a coach and where that is leading him.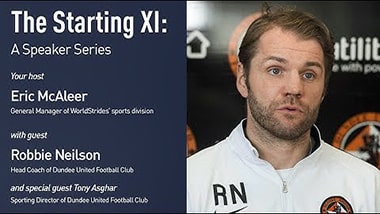 Robbie Neilson & Tony Asghar
Fresh off winning the Scottish Championship, Robbie Neilson and Tony Asghar from Dundee United join us to talk about what went into achieving that goal and what is to come next. Robbie shares the level of that detail that goes into preparing for preseason despite all the uncertainty surrounding when they will return to action.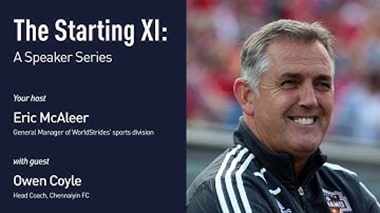 Owen Coyle
In this lively episode, Owen Coyle shares his experiences as both a player and a manager at the top level of soccer around the world. He also hits on some eye-opening challenges he experienced as a coach including his time here in the U.S. coaching for Houston Dynamo. Owen identifies what goes in to building a successful team and talks about his passion for working with young players.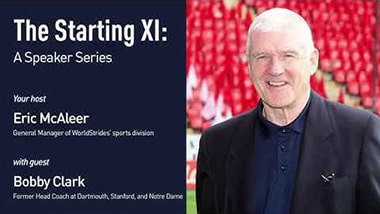 Bobby Clark
Arguably the most recognizable coach in the history of Men's College Soccer, Bobby Clark takes us on the journey of a lifetime as we relive his days at Clyde FC all the way through to a National Championship at the University of Notre Dame. Bobby provides some priceless insight and guidance on what it takes to develop successful players both on and off the field. Listen as he takes more pride in the men his players have become over the things they won.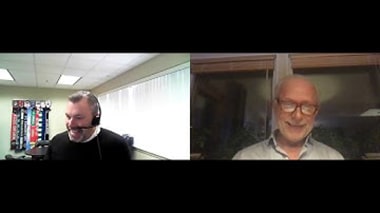 Dennis Andersson
Founder of the Gothia Cup in 1975, it's now the largest and most influential youth soccer tournament in the world. Eric and Dennis discuss the youth game, tournament lessons learned, and what it's like to host teams and players from all over the world.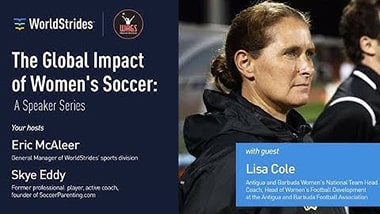 Lisa Cole
In episode two, we learn about Lisa Cole's evolution through her coaching journey, what motivates her, and how that has taken her to building the women's game in Antigua and Barbuda, which includes developing a legacy plan to create a long-term impact and sustainable growth for women's soccer.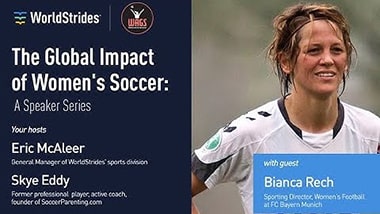 Bianca Rech
Bianca Rech joins us to talk about the influence she wants to have in German women's soccer, the importance of creating an environment where players are a part of the journey, and the challenges and future outlook for female soccer players.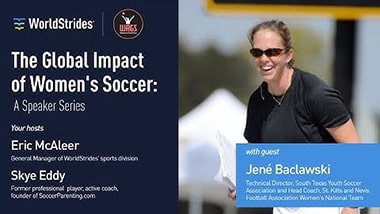 Jené Baclawski
As the Head Coach for the St. Kitts & Nevis Football Association Women's National Team, Jené Baclawski discusses the exciting challenges of developing a new program and the lessons she has learned along the way that have helped shape who she is.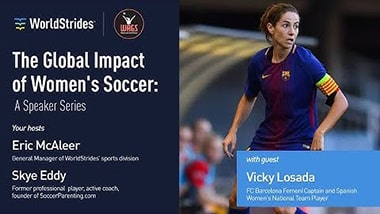 Vicky Losada
In our final episode, we talk with Vicky Losada about her growth as a player, her experience as part of the Barcelona Training program, and the lessons she learned during her time in the U.S. that she took back to Spain as a player and as a mentor to young players.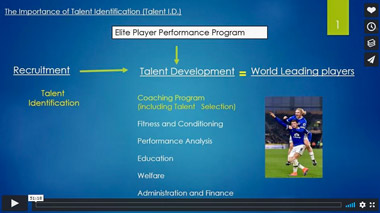 Ray Hall
Welcome to a session on Identifying Potential Talent with Ray Hall, who ran the world-famous academy at Everton FC for over 20 years! Ray Hall signed the then 8-year old Wayne Rooney at the Everton Academy and witnessed the close-up developmental journey thru his formative playing years into becoming one of the world's top players at Manchester United. Other players to come through the famous Everton academy under his watch include Ross Barkley, Tom Davies, Jack Rodwell, and Seamus Coleman.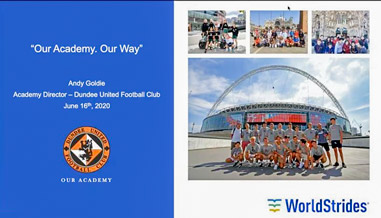 Andy Goldie
Welcome to Our Academy, Our Way presentation with Andy Goldie, Academy Director at Scottish Premier League club, Dundee United. Andy is one of Scotland's top coaching educators with the highest of UEFA and Scottish FA coaching licenses. The new American owners of the club took over in December, 2018 and immediately identified and head-hunted Andy as the leader they wanted to drive forward their all-important Academy program. Dundee United have built a reputation of being one of the best at developing young Scottish talent (Andy Robertson/Liverpool, Duncan Ferguson/Everton, Ryan Gauld/Sporting Lisbon) with many going on to represent the national team and in European competition.