WorldStrides Sports is dedicated to delivering the best international sports tour experience possible. If you would like to learn more about how WorldStrides Sports can help you plan an international sports tour, please feel free to contact us at any time by filling out the form below or contacting us via email (sports@worldstrides.com) or phone (410-489-2287).
About Our Soccer Trips to Ireland
Ireland is the perfect destination for any team. We use Dublin and Galway as bases to explore all Ireland has to offer, as these two cities offer the best local teams for your games as well as great history to explore. From bizarre lunar landscapes and the mighty Atlantic, to labyrinthine caves and crystal clear waterways, Ireland's breathtaking beauty is ripe for discovery. The Emerald Isle offers a warmth of welcome as the Irish are well-known for their fun-loving and natural ability to make all visitors feel at ease.
Dublin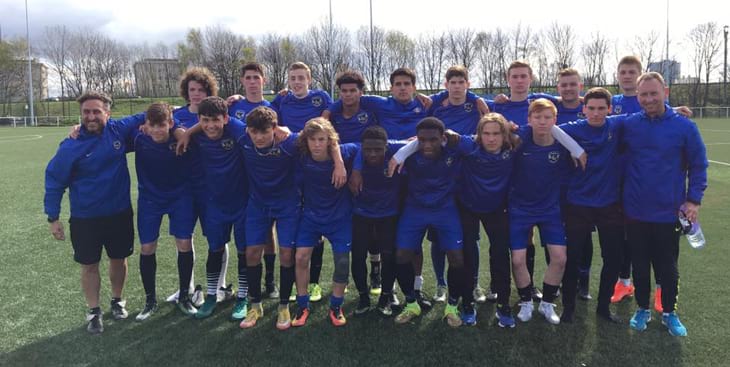 Dublin, Ireland's capital and one of Europe's oldest cities, has fast become one of Europe's most vibrant & cosmopolitan cities. Dublin has it all, in the city you can see great sights such as Trinity College, St. Patrick's Cathedral and the Guinness Storehouse. While just outside the city you can see beautiful natural sights such as Wicklow Mountains and Newgrange (an ancient Irish burial mound).
Sights to see in Dublin:
Trinity College
Book of Kells
Guinness Storehouse
Dublin Writers Museum
St. Patrick's Cathedral
Ha'penny Bridge
Newgrange
Wicklow Mountains
The National Stud Farm and much more!
"Ireland is such a beautiful country and incredibly friendly people as well. We could not have asked for a better pre-season trip for the team to bond, play and sightsee/shop. Thanks to Excel International Sports for helping arrange our trip and providing excellent, team-oriented planning, execution and advice. From the people at the office to the people with us on the trip (bus drivers and tour manager), we thoroughly enjoyed our trip and thank you very much!"
– Michael Cannon, Head Coach, Truman University Women's Soccer

Download PDF
Galway


Galway, frequently called Ireland's most Irish city, is a place where Celtic culture and literature have long thrived. Lined by stone shopfronts, the city's narrow cobblestone streets fill with a frenzy of street performers who enchant passers-by. Not far from Galway are the Cliffs of Moher, possibly one of the most spectacular sights in Europe!
Sights to see in Galway:
Eyre Square
Spanish Arch
Cliffs of Moher
Galway Cathedral
Aran Islands
Connemara National Park, and much more!
"It was the best foreign trip I have taken. Thanks to you and your staff!"
– Erin Coppernoll, Head Coach, University of Wisconsin-Osh Kosh Women's Soccer

Download PDF