On a recent trip to one of my favorite cities, Barcelona, I had the pleasure of attending the final game of one of the world's greats–Andres Iniesta Lujan. Born and raised in the Catalan region of Spain, he brought to an end a wonderful 22-year career with one of the world's largest and most successful clubs, FC Barcelona. What caught my attention was the love that everyone had for this unique player. Ninety-thousand people attended his final game vs. Real Sociedad, many of whom were wearing his iconic jersey. He was, as always, one of the best players on the field that night.
Thirty-six hours earlier, I'd toured the stadium of RCD Espanyol, the crosstown rival and long-term enemy of Iniesta and his club. Hanging in their stadium was a picture of Iniesta after he scored a goal in the 2010 World Cup final. After scoring, he removed his jersey to reveal a white t-shirt with a message written to the recently deceased captain of RCD Espanyol, Dani Jarques–an awesome gesture in what was possibly his finest career moment. That t-shirt now has pride of place in the stadium entryway.
The many testimonials about Inestia all bear the same theme:  He is amazingly humble while also being extremely competitive and successful. An outstanding career for a wonderful friend to many, a fantastic teammate, warrior and role model. The world would be a better place with more Iniestas in it.
Article written by Eric McAleer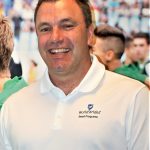 Born in Glasgow, Eric founded WorldStrides Excel in 1998. He's a former pro soccer player and is dedicated to bring sports teams from around the world to compete against each other while breaking down barriers of language, culture, and geography.