I first met Coach Sasho Cirovski in the Summer of June of 1997 as a Soccer Camp Coach at the University of Maryland. We have been friends since and I've been super fortunate to be around one of the top NCAA soccer programs in the country – and one of the top coaches in the country. Maryland Men's Soccer have traveled internationally in 2004, 2008 and in 2018 and we were honored to be chosen as their travel partner on each occasion. All three trips were to the UK and NCAA National titles were won in 2005 and in 2018! They've played against teams such as Tottenham Hotspur, Manchester United, Glasgow Celtic (who were coached by the legendary Tommy Burns), QPR, Hearts and Crystal Palace. They've attended top EPL games involving Manchester United, Spurs, Arsenal and Brighton. I've personally traveled on all three trips and had the great fortune of seeing top players such as Jason Garey, Maurice Edu, Zack Steffen and Donovan Pines play against some of the best young professional players in the UK. The high level of the Maryland program was evident against such high quality opposition. One game v's Crystal Palace in London had 10+ pro scouts in attendance watching Zack Steffen who, just recently, signed a 7 million pound deal with Manchester City. We are very proud to have played a part in this awesome journey – Go Terps!!
Article written by Eric McAleer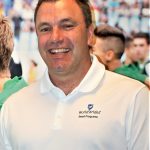 Born in Glasgow, Eric founded WorldStrides Excel in 1998. He's a former pro soccer player and is dedicated to bring sports teams from around the world to compete against each other while breaking down barriers of language, culture, and geography.