There's a thunderclap. And then plumes of hot volcanic ash arrive like a Viking invasion.
In April 2010, the Eyjafjallajokull volcano in Southern Iceland erupted, shutting down European airspace and causing the worst disruption in international travel since September 11, 2001. According to the Huffington Post, the giant ash cloud that hovered over northern Europe affected 10 million travelers, and airlines lost at least $1.7 billion.
Still, Eyjafjallajokull's ash cloud had a silver lining: Iceland, a small, remote island in the North Atlantic, home to more sheep (800,000) than people (350,000), was now on the tourist map. Travel to Iceland from North America was up 13% in 2010, and by 2017 the number of foreign visitors exceeded 2,000,000 for the first time.
But the Eyjafjallajokull eruption can be viewed another way, too. Maybe it was nature's response to the 2008 financial crash that saw the collapse of Iceland's three major banks and the Icelandic krona lose almost half its value overnight. Or maybe the volcanic eruption was the heralding of Iceland's national soccer team, and a thundering precursor to the rise of a soccer-mad nation.
Since 2010, Iceland has quietly become a soccer powerhouse. They shocked the world by beating England 2-1 in a last-16 match at the 2016 European Championship, and then shocked it again by qualifying for its first World Cup in 2018.
"Afram Island!" (Onward Iceland!)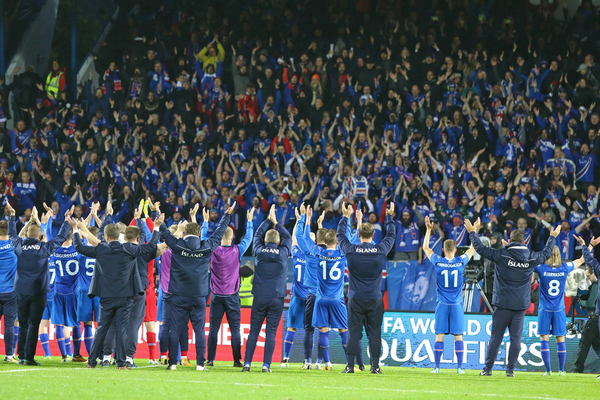 Iceland is a land of sagas, and the story of the men's national team is one of the best. The squad jumped 91 places on the FIFA World ranking in five years, cracking the Top 20 for the first time in March 2018.
The team's style of play is calm, composed, patient, and heavy on defense –a point Ronaldo emphasized after Iceland and Portugal played to a 1-1 draw in the first fixture of the 2016 European Championship –with flashes of counterattack after an opponent makes a mistake.
Iceland favors set pieces like corner kicks and throw-ins, and have revived the long throw, a specialty of midfielder Aron Gunnarsson, who, like "Thor the Hammer Hurler," repeatedly catches defenders off guard by launching bombs into the penalty area.
In comparison to Germany, Argentina, and Spain, Iceland evokes a slow, deliberate, unforgiving, and almost glacial style of play. Some critics call it boring; in fact, commentators at the 2018 World Cup said Iceland's defensive style was an affront to the beautiful game. Others call it underdog football.
In fact, the team's style of play is a lot like the Icelandic landscape –fire and ice. A typical Iceland match features 85 minutes of glacial floodplains, frigid mountains, and deep, quiet fjords, followed by five minutes of majestic waterfalls, rocketing geysers, and fiery volcanoes.
Watching an Icelandic football game is like waiting for the Northern Lights to appear; maybe something spectacular will happen -a highlight reel goal from an impossibly narrow angle, a long-range strike, a flying volley –but more often than not the goals are utilitarian, selfless, efforts of collaboration and teamwork rather than pure strikes, and the games are decidedly low scoring affairs.
Maybe it's the close-knit nature of the Icelandic players that's the key to the team's run of success. Or maybe the squad's passionate fan base has something to do with it, a fan base that's reached beyond the borders of Scandinavia, bringing its thunderclap and Viking horns wherever it goes, creating a global hysteria whenever the team takes the pitch. Perhaps it's the country's commitment to high-quality coaching and the fact that it's invested in several full-size, indoor soccer facilities in the past 15 years.
Or maybe Iceland's "hidden people" –the elves, sprites, and trolls that make their home in the country's landscape, are simply working their magic.
Article written by Eric McAleer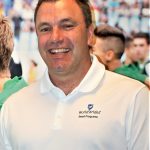 Born in Glasgow, Eric founded WorldStrides Excel in 1998. He's a former pro soccer player and is dedicated to bring sports teams from around the world to compete against each other while breaking down barriers of language, culture, and geography.