The first time I traveled, I was in my 3rd year (10th grade) at Clydebank High School, just outside of Glasgow, Scotland. It was 1982 and an opportunity arose for me to travel with our high school soccer team to Switzerland for a week-long soccer and cultural experience. It was my first time outside of the UK and I was beyond excited.
The 24-hour bus journey was a novelty. We entertained ourselves and got to know our teammates. We sang, slept, ate, played games and made the journey fly by quickly. We played many soccer games against local Swiss high schools, enjoyed post-match social gatherings, did some daily sightseeing and enjoyed the beauty of Switzerland.
Endless games of table tennis were played at night, we were busy during the day, and we embraced all that their culture had to offer. I ate my first piece of rare meat there and vividly remember that first sight of blood squirting from my food. We took hikes and daily walks and discovered the beautiful little town of "Les Arses".
My eyes had been opened and my curiosity levels kick-started. With soccer being the world's global sport, a common "language" spoken in every country in the world, my journey had begun. It continues to this day, and my curiosity factor – and my "why" – just keeps going.
The varying levels of passion for the game intertwined with the cultural differences throughout the world make this journey nothing short of fascinating. Soccer breaks down the barriers of language, race, creed and color. Soccer gives hope to millions and brings people together like no other sport.
Since then, I have called this my "why" moment. This is the moment that inspired my love for travel and reinforced my passion for competitive sports. This is the moment when my friendship with my teammates became a brotherhood.
Find your "why", and enjoy the journey.
What is your why?  
Article written by Eric McAleer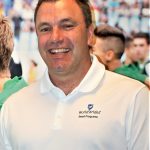 Born in Glasgow, Eric founded WorldStrides Excel in 1998. He's a former pro soccer player and is dedicated to bring sports teams from around the world to compete against each other while breaking down barriers of language, culture, and geography.