Catching up with Neil Hull, Director of Coaching at PASS.
How has your season been so far this year? Any highlights you'd like to share?
We are a Technical Training Academy. Through Covid and into the far side, we have been strong, retained our players well, and been able to build new trusted relationships through the strength of our culture. We have struggled, as has the rest of the world, but we've had the courage to show up, even when we could not control the outcomes.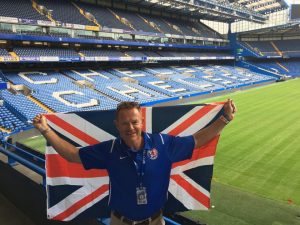 As vaccine rollout continues to increase and optimism for a "return to normal" becomes closer, can you share with us what you and your club are looking forward to most?
We're all looking forward to playing again with more ease and comfort, without fear or judgement. Seeing the players being able to hug and congratulate each other after a success without it feeling scary or unsafe – I think that's something all close groups are looking forward to, especially ours.
Tell us a little bit about your history with WorldStrides Sports. How'd did we connect originally?
We originally connected through playing with your VP (Eric McAleer)! We've been on three trips so far: England, Spain, and Germany, and we've absolutely enjoyed the joy of soccer, thrill of travel, educational opportunities and team building/sportsmanship.
Can you share with us what an international travel experience does for your players, teams, and families?
Camaraderie in sport. Building a culture between players, which can't be easily explained, written, or duplicated. The build-up, anticipation, and creating expectations is all part of the journey itself. This has been really tough over the last 18 months with all of the unknowns everywhere, and we've missed being able to go about the world.
We generally travel in the summer, obviously a great time of freedom for our players and an annual chance for them to unwind and create new memories for themselves and the team. The amount of players who write journals, make videos to share with everyone back home, the social media posts that happen during the trip – it's all so amazing and tells you everything you need to know about how much fun and excitement the players are having.
One memory I'll never forget – the teams we played in Germany who would not let us leave their complex! The stowed away on our bus! It was so funny and endearing. We had to do security walk throughs to clear the bus!! Their coach walked through the bus last, crying, saying goodbye personally to every player and parent. It was really touching.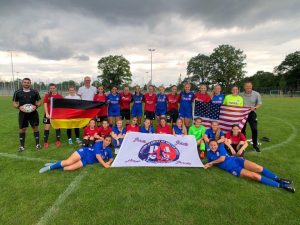 What have been some of the highlights from your trips with us? Do you have a favorite destination?
We took a trip to the beach when we were in Spain. It was great – I mean, the beach, you know – but we were able to combine the players, the adults, the game, and socializing into a single event.
Any travel advice you can share with other clubs who might be reading this?Believe in the process, this will be the most fun you can have with a soccer ball!
Why would you recommend international travel for other clubs and programs?
It's a great chance to see the another side of your players and parents.