Just over a year ago, we had a big announcement: Seacoast United selected us as their exclusive international travel program provider for their soccer, baseball, softball, lacrosse, and field hockey programs. (You can read an official press release here.)
That's big, exciting news all around, for sure, but also perhaps a bit of destiny was at play – you see, our very own Nikiah Dulac, played soccer with Seacoast United as a youth soccer player.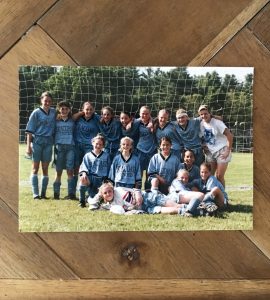 There she is – top row, third from the right!
"How big our world is and yet how small it can be — As a young girl, I ate, drank, slept, and dreamt about soccer. Seacoast fulfilled my dreams as a player. Now, fast forward 20+ years later, and how wonderful it is to give additional meaning to my job at WorldStrides Sports to serve as the primary liaison behind the development of all SUSC's international trips. Paul Willis [President and CEO, Seacoast United] was an influential part in my youth and still is to this day."
Nikiah Dulac, Account Executive, WorldStrides Sports
In the years since Nikiah's playing days, Seacoast United has continued to grow and is now one of the largest and most admired sporting clubs in New England, offering top-class training, competition, and facilities to athletes in New Hampshire, Massachusetts, and Maine. Adding international programs to their already impressive menu of opportunities for their players is not only an obvious step in the club's overall progression, it takes its dedicated interest in building community to the next level – abroad.
"Partnering with Seacoast United is fantastic for all involved, starting with the athletes that will participate in what they'll truly remember as a highlight of their youth career. They'll see a bigger glimpse of just how big – and unifying –soccer is around the world, and begin to really see the nuances in style and approach that international cities and countries give the game. I'll never stop getting excited about what that means to me, WorldStrides Sports, and our players from across the country."
Eric McAleer, SVP, WorldStrides Sports
While Covid has thrown a wrench in Seacoast United's plans to conduct five international travel programs in 2020, club representatives were able to join us for a familiarization trip in February, just before the world turned upside down. In fact, they shared their side of the story here.
"The one thing I took away more so than anything else is how amazing the team at WorldStrides is. Everything leading up to the trip, boots on the ground, the tour conductor were fantastic ambassadors for your company…you must be extremely proud of the people involved in your organization. Please pass on my best to them and let them know again how much I appreciate their efforts as I know how much work goes into putting these types of things together."
James Peterson, Sales and Marketing Director, Seacoast United
Thank you, James! We can't wait to see your athletes playing the sport they love in new places around the world.
Interested in joining Seacoast United as a WorldStrides Sports partner? Contact us today at sports@worldstrides.com or visit us to learn more at worldstrides.com/sports.