About the Stadium
Located just twenty minutes outside of Manchester City center, Etihad Stadium is home to Manchester City Football Club.
Built in 2002 to host the Commonwealth Games, a series of sporting events held every four years for members of the Commonwealth of Nations, the stadium's capacity is 55,017, making it the fifth-largest stadium in the Premier League.
Formerly known as the City of Manchester Stadium, the landmark arena was renamed Etihad Stadium in 2011. The Blues hold a 250-year lease on the stadium, which has also hosted rugby games, concerts, and a boxing match.
Fun Fact: Etihad Stadium's basement facilities include a prison cell!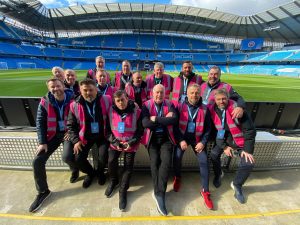 The Pitch
Etihad Stadium's spectacular 105 x 68 meter pitch is located six meters below ground, a nod to ancient Roman gladiator arenas and amphitheaters. Many players believe the grass to be some of the best in the league–nominated five times in the last nine seasons, Etihad finally won Best Premier League Pitch in the 2010-2011 season.
Visiting the Stadium
See the stadium with your own eyes on a WorldStrides Sports tour to Manchester, England! Members of our 2022 Familiarization Trip had the chance to attend the Man City v. Everton Women's match, as well as the Man City v. Manchester United derby match.
Outside the stadium, they met with Martin Tyler, an English football commentator famous for calling Sergio Aguero's game-winning goal at the Etihad when Manchester City won the Premier League in 2012.
Watch the video below for a peek at the FAM Trip's crew at Etihad!
Thank you to our awesome club & @usysodp partners for joining us on our hugely successful '22 FAM trip to England. Special thanks also to our fantastic host clubs @Everton @BurnleyOfficial & @ManCity Thx also to video guru @derek_willis 👏💪 Plans already in place for '23! 🌍 ⚽️ pic.twitter.com/9E07MWJ4yS

— WorldStrides Sports (@SportsbyWS) March 20, 2022