Meet David Lewis, WorldStrides Sports Tour Director!
How long have you been a Tour Director with WorldStrides Sports?
I have been a tour director for 23 years, of which five years have been with Worldstrides Sports.
What do you like most about your job?
I love being involved with the day-to-day running of itineraries, and making sure everything runs as smoothly as possible, plus joining in with the camaraderie of the group, whether it's going in goal in practice matches or advising what to do when there's free time.
I like to see teams express themselves, and have fun learning new things. I love showing them around the hidden gems or iconic places we visit — helping and also learning from my guests.
I like to say that "We all have books inside of us, so let's fill some pages together."
Finally, I like to encourage everyone to become a traveler, not a tourist. The way I see it, travelers embrace the country they visit, while tourists want their own country abroad.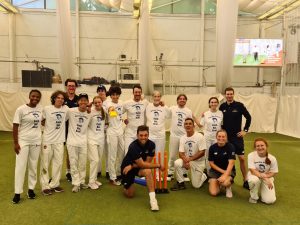 Tell us a bit about your professional background – what led you to your role as a Tour Director?
I have always had a passion for travel. From an early age, my father took me backpacking around Europe, so after college, I joined the Merchant Navy and traveled to exotic places for five years. I then joined the police service to help serve the public. I also played various sports including soccer, rugby, cricket, and golf.
I left the police service after 15 years to carry on my passion of looking after people, learning about new cultures and history, meeting people, and traveling, which I've now been doing for 23 years.
I have taken groups all over the world and have been lucky to visit over 100 countries, plus 38 states of America. I have led groups on sports tours in the U.K., Europe, Australia, New Zealand, South Africa, and the West Indies.
What do you see in American soccer players that strikes you as unique?
It's obvious from the first training session that I watch, it is the high fitness levels and the fast speed in which they play the game. They show passion that shines through, but it's not always about speed – it's knowing when to give that final ball as it only takes a second to score a goal.
What do you think American soccer players realize about the sport once they've seen it in another country?
I believe they see it's more physical than they are used to, but soon they realize they can compete at the highest level and win.
If you could put together a dream international soccer tour (with an unlimited budget) for yourself and your friends/family, where would you go and what would you make sure to include?
I am always asked which is my favorite country, and it's hard as all countries are different and offer so much diversity. I have enjoyed every country I have ever visited!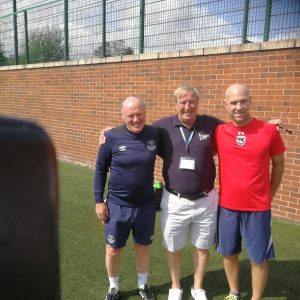 My dream international soccer tour would have to be a World Cup of Soccer. I went to the 2006 World Cup in Germany and the 2019 Women's World Cup in France, but as I love traveling around the USA so much, I would choose a World Cup of Soccer in the USA.
America is so vast and there is only so much we could do and take in.
We would need to have a three- or four-week tour, starting in New York. We'd visit Ground Zero, Union Station, U.N. Building, and take a ferry ride past the Statue of Liberty onto Ellis Island to see the history of immigrants coming to America.
Then a visit to Strawberry Fields in Central Park to pay respects to John Lennon. Visit the Empire State Building and Times Square. Shop on Fifth Avenue. Eat in Greenwich Village, watch soccer games in local restaurants in the lower east side of Manhattan, and take an evening ride across to Hoboken for an amazing evening view of the iconic New York skyline. Ride the subway.
Next, onto Washington, D.C., where we'd visit the White House and the monuments, Capitol Hill, Smithsonian, and Georgetown, then watch a game in one of the stadiums.
I would then fly to Atlanta to visit Martin Luther King Junior's church and graves and see CNN building and Olympic Park. A visit to the Cyclorama, one of only three left in the world depicting scenes of the American Civil War. See where Margaret Mitchell lived and wrote Gone with the Wind, then visit the beautiful Fox Theatre and its art deco design. Eat in Buckhead, uptown or downtown Atlanta, then watch a game in the city.
Then to Nashville to visit the Country Music Hall of Fame, Grand Ole Opry, Broadway Avenue honky tonks, Studio B of RCA records where the great Elvis, Dolly Parton, Don Gibson, Charlie Pride, Jim Reeves, Roy Orbison, Everly Brothers and many more recorded, then watch a game at the Nissan Stadium.
Memphis is next to see Graceland, Rock and Soul music, Sun Records, Beale Street and the Mississippi River. Of course, I'd eat BBQ along the way.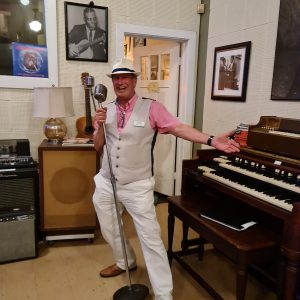 It's now onto New Orleans to admire the beautiful French-inspired city and the wonderful garden district. Step foot on Bourbon Street to hear all kinds of music. Take a tour of the swamps or just amble around the French Quarter, marveling at all the different sights, smells, architecture, and the warmth of the local people. The food is outstanding and there are many amazing eateries.
From here I would fly to Orlando, Florida and visit a theme park or two, and watch some games. Visit Miami and South Beach and watch a game there, then have a slow meander down to Key West to visit Ernest Hemingway's house and see the most southern tip of the USA.
Then onto Fort Myers, where Ford and Edison have their museum before relaxing on a beach somewhere near Clearwater before flying home.
America is such a giant country, there is so much to see and do! I have to say that the American people that I have met have been some of the nicest people you could ever wish to meet.
What was it like to lead your first tour since the global shutdown?
From day one of the pandemic, when we were all frightened of this invisible disease and traveling stopped, I realised I wanted to help, so I worked as a contact tracer throughout the pandemic for our Wales NHS. It was hard but rewarding to feel that I was helping in a small way.
I was so delighted and privileged to be given my first tour this year with Worldstrides in March! We had to stick with all the safety protocols to try and keep everyone safe, but the joy and enthusiasm of all guests traveling again was amazing. It's wonderful and exciting when you realise how lucky you are to be able to travel again.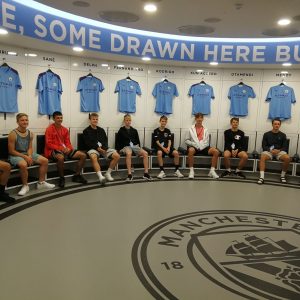 Any additional stories that you'd like to share about your experience as a Tour Director?
I have a couple. I remember going in goal and trying to show off my skills, but as I am a little older than the teams I look after, I didn't realize how hard they hit the ball! I would still try and dive for every ball but it takes me a lot longer to get back off the floor.
One of my groups had to train indoors due to bad weather and at the end of it the team put on a dance record where they were doing a dance routine and I joined in at the end of the line. The final act was to dance and hop like a bunny rabbit and I am giving it my all. What I didn't realize is that some members of the group were filming me and it went viral!
Or my first tour with Worldstrides Sports, I had a group and we visited the Manchester United, Liverpool FC, and Manchester City stadiums and their souvenir shops. The day we were due to see an actual live premier league game, they all came down in their different tops, scarfs, and hats to get on the bus, but unfortunately, it was Burnley versus Everton and it's a big no-no in this country for safety reasons to wear different colors of teams that you are not watching.
I had to ask nicely, explaining the reasons, and they all had to get changed again. I now mention this in my welcome meeting!