Two teams. Nine days. One life-changing adventure. That's just a snapshot of what happened when the North Carolina Wesleyan Women's Soccer and Women's Volleyball teams joined us for a one-of-a-kind sports journey through Scotland this spring.
Check out this video for a quick summary of the trip!
Upon arrival, the teams enjoyed some free time to explore the area before attending their own training sessions to loosen up and practice their skills abroad. The next several days included sightseeing adventures to Edinburgh Castle, The Royal Mile, Stirling Castle, and more. 
Of course, the trip included plenty of time for sports, starting with a tour of Ibrox Stadium, home of the Glasgow Rangers. Both NC Wesleyan teams visited Celtic Park for the Celtic vs. Motherwell game to watch Celtic lift the Scottish Premier League trophy after a convincing 6-0 win for the Champions, followed by the Celtic vs. Rangers Women's game at Excelsior Stadium the next day. Before heading back home, NC Wesleyan Women's Volleyball had the opportunity to play Scotland U20 National Team, and the Women's Soccer team played an intense match against Glasgow University.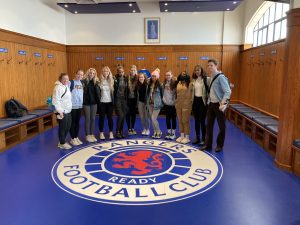 Here's what some players had to say about their trip:
"The experience of traveling to Scotland with our teammates and coaches was one that we will never forget! WorldStrides gave us the opportunity to not only learn about and experience a different culture and country, but also the ability to play soccer competitively in a different country. This was a once-in-a-lifetime opportunity and we are so grateful to have been able to take this trip and explore several beautiful cities in Scotland!" – Khristel Thompson & Isabel Neall, soccer players
"Traveling to Scotland was an amazing experience! For a first-time international traveler, it was awesome to be so warmly welcomed into another culture. Having the opportunity to play volleyball with different people felt like meeting a different family; all with the same love for the sport. This trip has shown me a small glimpse of the opportunities that are provided with international travel and sports. I hope to experience more adventures like this!" – Allison Wichrowski, volleyball player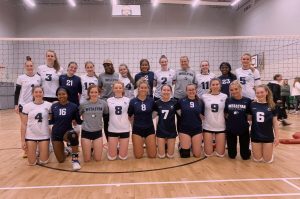 History, Memory, Monuments, and More
As part of the trip, each traveler participated in a one-credit course, led by Assoc. Professor Lee Templeton, called Scotland: History, Memory, Monument, Identity. Students were asked to think about the way a nation, through its historic sites, monuments, memorials, etc., grapples with the preservation and presentation of its history, shaping the story it wants to tell about itself to its own citizens as well as outsiders. For example:
What story (or stories) is Scotland telling through its historic sites, monuments, museum exhibitions, and memorials? 

What do these reveal about Scotland's understanding of its past, about what events it believes are important and worth preserving/memorializing, about which individuals deserve recognition and remembrance? 

What image of itself is Scotland attempting to present both to itself and to others?
With these questions in mind, students were asked to create a presentation that examined some of the historic sites, monuments, memorials, museum exhibitions, etc., they encountered on their trip and how each enhanced their understanding of Scotland's past and present.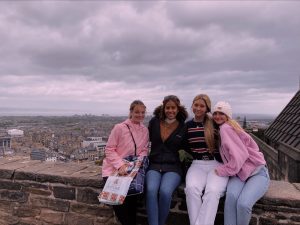 Here's what NC Wesleyan faculty and coaches thought of their Scotland adventure:
"Thanks to WorldStrides, our recent trip to Scotland was an absolute success. Their thoughtful consideration in putting together our itinerary ensured that our students experienced the richness of Scottish history and culture. The level of attention and care WorldStrides provided was truly incredible, making our international travel smooth and worry-free. I hope to have the opportunity to travel with WorldStrides again soon." – Lee Templeton, Associate Professor
"Planning and implementing international travel for a coaching staff is always challenging, but combining with Worldstrides made our desire to take our programs to an international destination possible. Worldstrides provided our teams with an incredible experience of culture, education, and competition. Our Women's Soccer and Volleyball team members (and fans) traveled to Scotland and were able to participate in a "micro" study abroad course developed and administered by a current faculty member, combined with complimentary tours and experiences. Our large travel party was hosted by incredible staff, who ensured every opportunity to experience the culture as well as the detailed coordination of our competitions against Glasgow University and the Scottish U20 National Volleyball team. Overall, this complete Division III opportunity was a once-in-a-lifetime experience that will be relived for years to come in team and alumni events. We are looking forward to International travel with Worldstrides in 2025!" – Beverly Biancur (Women's Soccer Coach) & Vicky Gentile (Women's Volleyball Coach)
"My family of six along with student-athletes, coaches, and other staff members recently visited Scotland through the services that WorldStrides Sports provides. From our beginning conversations through our return flight home, every aspect of our trip was coordinated with professionalism and the WorldStrides Sports staff supported us throughout the process. It was phenomenal to have this trip completely planned out with a personal tour guide that took care of every detail, big and small. I can't wait to plan our next trip with WorldStrides." – Dr. Evan D. Duff, President